Winter Coffee Set
A welcoming pair of coffees for the season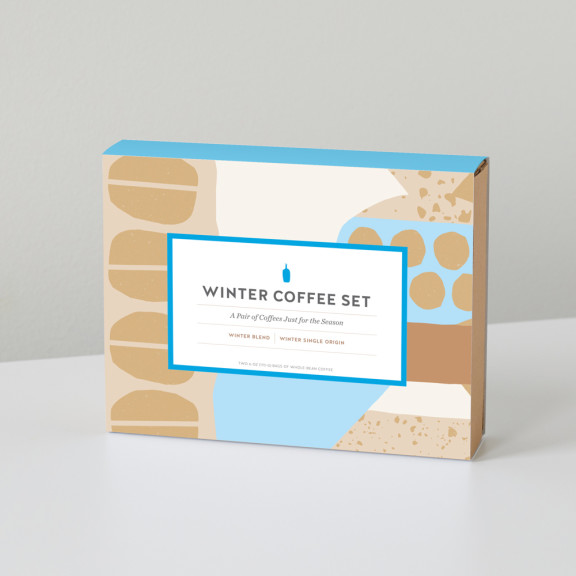 Ships out in 1 to 3 business days
About This Item
We created this coffee duo—one a blend and one a single origin—to bring you the warmth and joy we look for in the depths of winter. Winter Blend is a cozy coffee that envelops you in sweet flavors of dark chocolate and molasses. This coffee is made to keep you grounded and warm, with a welcoming feel and rich taste. Ethiopia Gedeb METAD Natural sparkles with floral and fruity notes that uplift and enliven. Together, these coffees embody two facets of the season that we crave all year round.

Winter Blend
Notes of dark chocolate, molasses, and blackberry preserves
Our limited-edition Winter Blend captures the brightness of Ethiopian natural coffee and the round sweetness of Guatemalan coffee, balancing the two for a warm, complex flavor. Deep notes of dark chocolate and molasses give this blend a full body and substantial gravitas, while the fruity sweetness from the Ethiopian natural shines through in bright glimmers of blackberry.

Winter Single Origin | Ethiopia Gedeb METAD Natural Notes of blueberry jam, honey, and lavender
A pinnacle example of an Ethiopian natural coffee, our Winter Single Origin is an uplifting counterpoint to the grounding blend, with a silky body reminiscent of warm honey. Intensely fruity, this coffee sings with the bright sweetness of berries and stone fruit. This bravado gives way to a delicate florality that's balanced with a pleasantly brisk note of black tea. Our winter single origin sparkles with the bright joy of the season.
Details
Notes