Winter Blooms Coffee Set and Virtual Brew Class Gift Card
Learn how to brew your coffee like an expert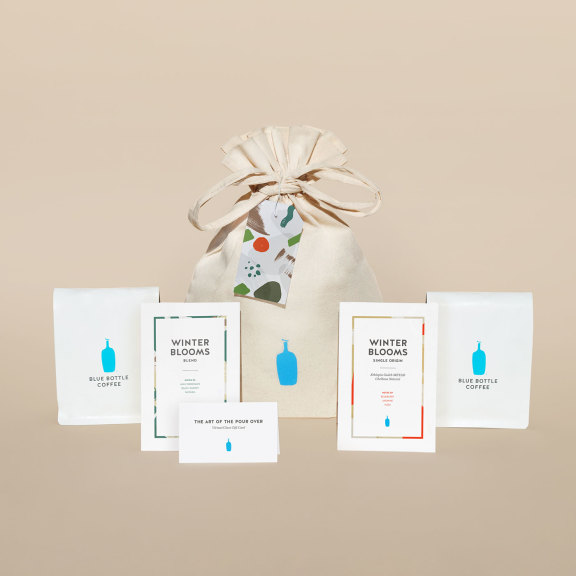 Ships in 1 to 2 business days
About This Item
You know what they say: Give them great coffee and they'll have delicious mornings for a few days. Teach them to brew it well and they'll drink beautiful coffee for the rest of their lives. With this gift, you can give them both so they can drink delicious coffee now and always.
Winter Bloom Set
The coffee: We designed this duo—a blend and single origin—to help us look back on a challenging year while celebrating the beauty that endures and the hopes that bloom anew. Our Winter Blooms Blend brings us the grounding notes we crave during the darkest days of the year while the Winter Blooms Single Origin from Ethiopia inspires us with its uplifting notes that keep us looking ever forward.
Winter Blooms Blend
With notes of milk chocolate, black cherry, and nutmeg
Winter Blooms Single Origin
Ethiopia Gedeb METAD Chelbesa Natural
With notes of blueberry, jasmine, and yuzu
Virtual Brew Class Gift Card
The class: Give them an on-demand virtual coffee-brewing class taught by a Blue Bottle Master Trainer on how to brew pour over coffee using the Blue Bottle Dripper at home. In this class, they will gain an understanding of brew theory and brew technique using the Blue Bottle Dripper. They will also learn how to evaluate brew variables so that they can make a more consistently delicious cup of coffee at home.
Details
Set contains two 6-ounce bags of whole-bean coffee.
The Art of the Pour Over Class is prerecorded and available on demand.
Running time is 70 minutes. Viewers may watch at their own pace.
Notes