Blue Bottle Coffee x Human Made Past Blend
A coffee crafted with iconic Japanese designer NIGO®
LIMITED RELEASE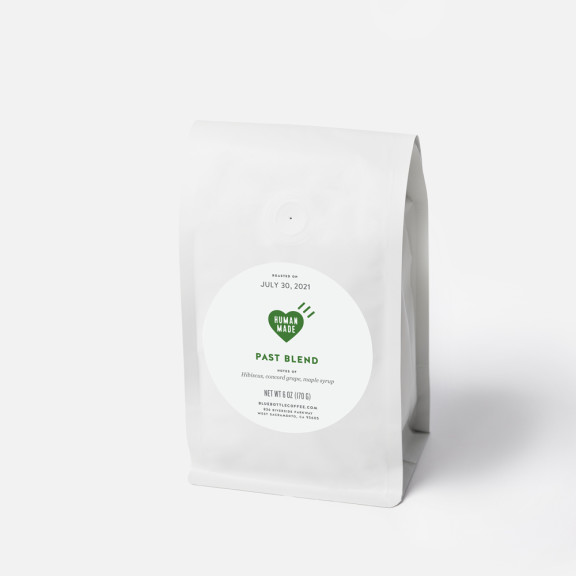 Roasts on Tuesday, July 27th
About This Coffee
The Coffee
NIGO®, founder of cult streetwear brand HUMAN MADE, is also a devoted coffee aficionado and a regular at the Blue Bottle cafe in Nakameguro, Tokyo. In fact, he adores coffee so much, he took brewing lessons from our team members there.
NIGO®︎ worked with our coffee team to craft Past Blend, a companion coffee to Future Blend, our first collaboration. For Past, NIGO®︎ wanted to mine the idea of "classic" in coffee, and together, we riffed on what that means to us. We considered roast level and origin, settling on a slightly darker roast profile that harkens back to the coffees many of us grew up on—the coffees a server in a diner might pour to "top off" your cup. For origin, we settled on a natural-processed Ethiopian coffee, a nod to arabica's evolution there and the traditional method used to transform the coffee cherry into beans. To achieve richness in the cup, we roasted the coffee in two ways, darker to achieve a maple-like sweetness, and lighter to add an accent of floral nuance. To us, Past Blend is like a bridge—between the very idea of what is a single origin versus a blend. Like HUMAN MADE's designs, this coffee is at once approachable and profound.
The Collaboration
Coffee awakens every corner of our culture, from poetry and art to fashion and music. In our collaborations, we seek to join forces with like-minded leaders in complementary creative realms who share our passion for coffee and for pushing boundaries in their creative pursuits.
In April 2021, Blue Bottle launched a collaboration with NIGO®, founder of cult streetwear brand HUMAN MADE, which he co-founded with Pharrell Williams. A visionary creative, NIGO® is a multifaceted force whose talents include design, photography, curation, and music production. The astute strategist has a unique perspective on the multilayered and ever-changing fashion industry. His previous collaborations include Adidas and Louis Vuitton.
Learn more about the Blue Bottle Coffee x HUMAN MADE collaboration on our
blog
.
Notes
All of our blends (both the individual components and the blend itself) are tested weekly by our professional tasters to ensure quality and deliciousness.

For our whole bean coffee, 48 hours

is the maximum time that could possibly pass between roasting our coffee and shipping it to you. (It's usually even less.)
Cupping spoons and a practiced palate are the key instruments of our Quality Control team, who taste, evaluate, and refine our coffees every day.
Learn more about Perfectly Ground
All shipping emissions offset with investments in projects to reduce greenhouse gases.