Baratza Vario+ Grinder
Professional-grade flat burr grinder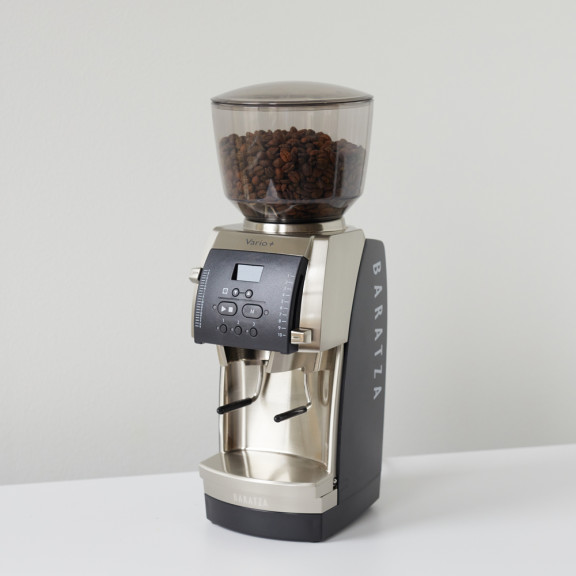 Ships out in 1 to 3 business days
About This Item
If you're ready to grind like the professionals but still need the sleek footprint of a home machine, this is the grinder for you. The Vario+ gives you exacting control over your grind size, with over 220 distinct and repeatable grind settings, plus a durable metal grind chamber. The easy-to-read backlit LCD display makes it a breeze to start your coffee ritual, even in the low light of early mornings.

A digital timer and three user-programmable presets make accurate one-touch dosing and repeatable grind times a snap. The collection bin, fitted with LED light for visibility, holds just over 180 grams of coffee, or you can use the heavy duty metal Porta-Holder, which will grind coffee neatly into your espresso machine's portafilter—no need to hold it in place.

The Vario+ features super durable 54mm ceramic flat burrs that provide accurate, fast-grinding performance and remain sharp for twice as long as the best steel burrs. The high-torque DC motor means your coffee is in for a smooth, cool ride.
Details
A true multi-purpose grinder. Great for espresso and manual methods.
54 mm flat ceramic burrs
220 steps of grind settings
Burrs are easily removable with no tools for cleaning
Grinds 1.6 grams/second for espresso and 2.2 grams/second for manual brew methods.
A powerful, high-torque DC motor effortlessly drives the burrs
A front mounted control panel with backlit LCD display is easy to read and intuitive
Three time-based presets allow for automatic dosing
Calibrated at the factory and can be easily calibrated using the special calibration tool that comes with the grinder
Dimensions W/H/D: 13 / 36 / 18 cm
Weight: 9 pounds
Notes