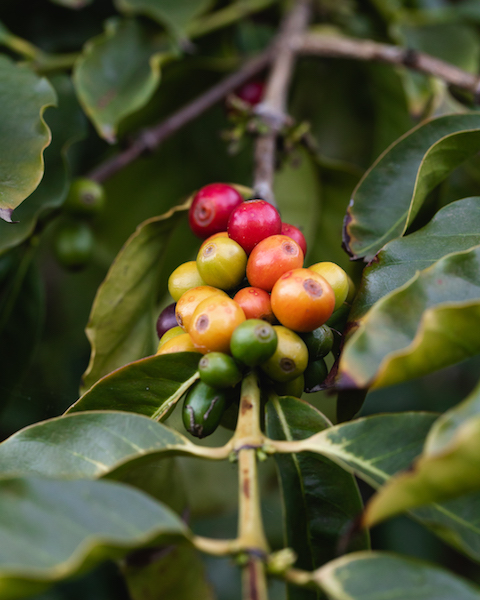 Sustainable Farming by Design
Last year, Blue Bottle was proud to introduce our first coffee grown in our home state. Nurtured and produced on Good Land Organics, the SoCal paradise founded by Jay Ruskey, California Good Land Organics marks a new tradition of coffee far from its tropical origins. For Ruskey—who also owns Frinj Coffee, INC., which shares science-forward approaches to coffee-growing with other farmers—sustainability isn't just a premium tacked onto the crops they produce. It's a necessity.
"We have always tried to work with the triple bottom line of sustainable agriculture," says Jay. For Good Land Organics and Frinj Coffee, sustainability is comprised of three equally important components: environment, people, and business.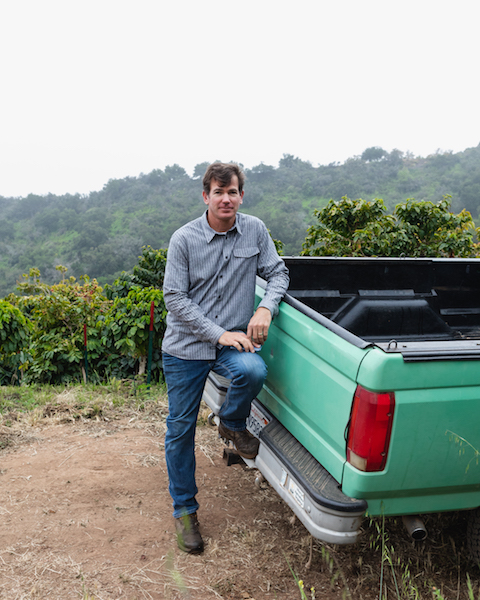 The Environment
The name says it all: Good Land Organics doesn't use pesticides or herbicides to grow its crops. As well as becoming organic certified through CCOF, Good Land Organics promotes the layered agriculture system that it uses to the farmers it supports through Frinj.
"In the heart of Good Land Organics, you will see coffee, avocados, passionfruit, and dragon fruit all in one location," says Jay. "As a whole, these crops are all sharing water, labor, and light while protecting each other from weather extremes such as sun, wind, and frost."
While Good Land Organics is certified organic, Frinj Co-Founder Lindsey Mesta notes that it doesn't impose these standards on their Frinj colleagues, though they do encourage them to pursue organic certification when possible. "Transitioning to organic is a tough process," says Lindsey. "It takes three years on average, but it's not the only way to make farming practices more sustainable. We recommend organic fertilizers to all our growers and as we come in and help other farms with their growing practices, we try to be an example. Not all of the farms are going to be able to be fully organic, but we can encourage them to adopt aspects of our three-tiered approach where they can."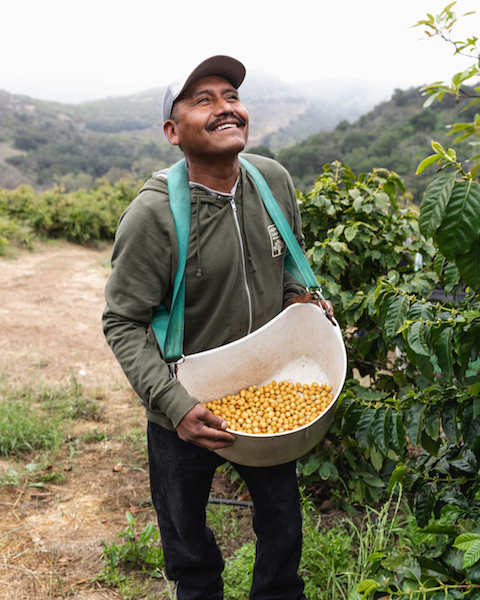 The People
Sustainable farming means refusing to exploit the land. It also means refusing to exploit the people who work it.

"The people are what makes the farm work," says Jay. "Healthy people make up a healthy farm, so this drives the reason why we refuse to farm conventionally—in order to protect the work environment as well as the environment overall."
"We operate under a Farmer First model," says Lindsey. "We know California growers aren't going to grow coffee if they're not making a profit, so if we want to pay ethical wages to our workers, and be able to pay for our resources, like water and land, we have to focus on quality coffee that we can sell at a higher price point."
That sense of responsibility radiates outward into the community. "We have spent many decades working local farmers' markets and community markets to ensure our products stay local, and to keep communication with the local people," says Jay. "Farmers' markets are a great way to test new fruits we're trying to grow, as well as talk to other farmers about their challenges. For 2019, we are expanding to on-farm educational programs and also as coffee career-building programs. We have a unique farm providing rare experiences that should be shared with people who have a desire to learn about coffee and farming."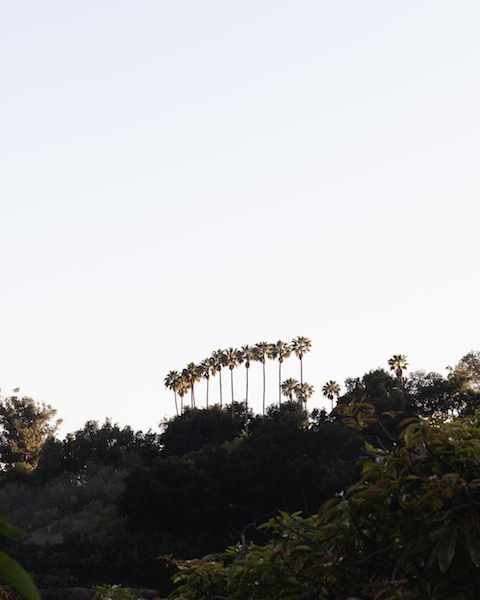 The Business
As a leader in the California coffee industry and within its capacity as Frinj, Jay, Lindsey, and their team set an example with their own growing practices and share them with others whenever possible. "With Frinj, we are trying to systemize our three-tiered process with other collaborating farms interested in trying similar practices. The replication of this system is how sustainability ideally should work," says Lindsey.
"The reason we formed Frinj was to create an entity that could go beyond Good Land Organics and provide a farming technology transfer of resources," says Jay. It's rare in modern agriculture for a small-scale system to provide consulting and technology to other small-scale farmers, but this is what Frinj is, in practice. The task, Jay notes, is not an easy one, but Frinj is committed to working with its collaborators to reestablish Southern California's farming industry as fundamentally sustainable.
Their end result? "A group of dedicated farmers making a living, and providing what is one of the topmost imported food products in the U.S. For us here at Frinj, that is one of the most sustainable systems models that we can achieve."
The Future of Farming
With the examples set by Frinj and the innovations developed through Good Land Organics, Jay hopes someday to make California a sustainable coffee growing region. But the Frinj team recognizes that success doesn't begin and end with this sunny plot of land in the hills around Santa Barbara. "It's not a sustainable business model unless we take care of all our farmers," says Lindsey.
Blue Bottle is proud to work with farmers who grow coffee sustainably—and we make sure those principles live on in our own practices.