I'm not sure which is my favorite mug, but judging by the ones that get left in my car on a regular basis, these would have to be my top three.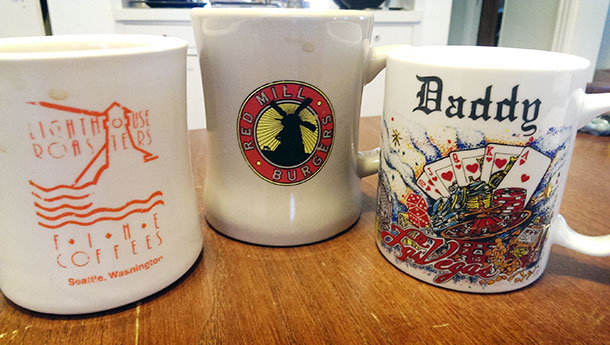 The Lighthouse Mug
I worked at Lighthouse Roasters for a long time. Ed, the founder, and Eric, the roaster, answered my every question, often over beers, whether it was about coffee, race cars, or golf. I learned so much at Lighthouse, not only about roasting coffee. Greeting the same faces every day, my customers became my friends, and we'd see each other at the grocery store and the pub. A few of them joined my fantasy football league, others played poker with me every Saturday night for 8 years. When I drink from this mug, I remember these good people living their lives as best they could.
The Red Mill Mug
This thing is huge, with real heft that works your biceps while you enjoy a cup of fresh-roasted goodness. It'll hold 14 ounces of coffee without breaking a sweat. I gave it to myself for Christmas a few years back. Why a burger shop sells coffee mugs when they don't sell coffee, I'll never know. When this mug goes missing, I usually find it in my wife's car, so I suppose its her favorite mug, too.
The Daddy Mug
I met Matt at Lighthouse and regularly took his money on Saturday nights, so we became fast friends. Years later, when my son was born, my wife and I asked Matt to be his godfather. He was delighted. He came back from a trip to Vegas with this blinged-out mug for me. It's pleasantly light, and its gold paint highlights the usual attractions of the strip. It says "Daddy" because no one carries tourist shwag that says "Wolfgang."