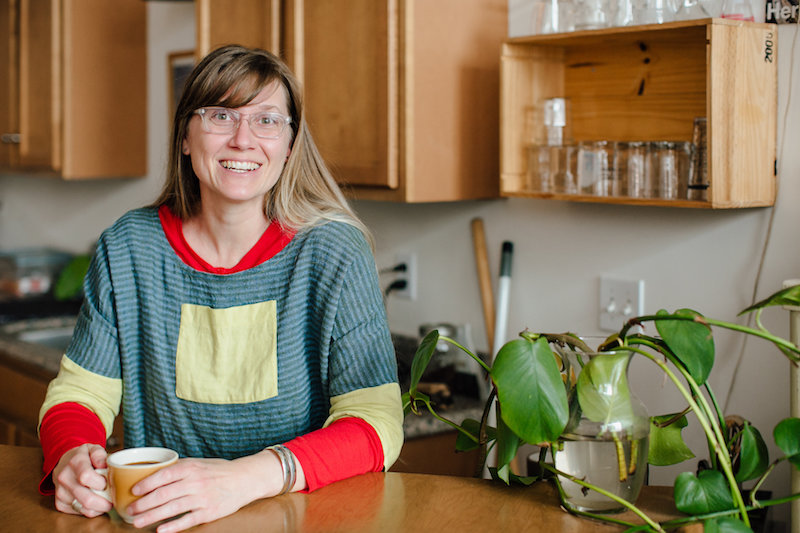 Fifteen years ago, Oakland-based artist Michelle Ott started out her Blue Bottle career as an office manager. It didn't take her long to realize, however, that there were some aspects of her job—like screenprinting Blue Bottle hoodies or drawing the picture that would go on to star on the window covering of our Rockefeller Center cafe—that she enjoyed much more than others.

"Since those were the things I liked doing and felt I was good at—compared to filing sales tax returns or reconciling kitchen equipment accounting receipts—I decided to make a proposal," says Michelle.
So she set to work designing a new position that combined all of her favorite activities into a sort of amalgamation (a blend, if you will). But first, she had to convince our founder and CPO, James Freeman, that it was the right move.
Inspired by our Opascope Espresso, itself inspired by a tool used to project handwriting and finely rendered artwork onto larger surfaces, Michelle came up with plan. Borrowing the opascope that James and his wife, Caitlin, had gotten for a painting installation in their flat, Michelle made her case with five simple slides that mapped out her hopeful transition from administrator to artist. The rest, as they say, is history.
This month, we're celebrating fifteen years of making delicious coffee, and we couldn't have done it without Michelle Ott—illustrator, photographer, quilter, and Antarctic traveler. We highly recommend visiting her website and checking out her on Instagram.