Tonx Subscribers will soon be drinking a delicious cup of Las Cuchillas from Jinotega, Nicaragua. The beans were grown at Finca La Amistad, whose owner, Francisco Javier Valle, is one of the most interesting people I've met in my travels.
Francisco Javier often breaks out into song, belting out ranchera lines. I remember him wailing "Ojalá que llueva café en el campo!" ("I hope it rains coffee in the fields!") while we tasted samples from Nicaragua, with a stone-faced farmer waiting for us to finish.
To celebrate sending his beans to our subscribers this week, I had a chat with Francisco Javier about his family, his farm, and how the US coffee culture looks to a Nicaraguan coffee farmer. He is vibrant, intense, and has a great sense of humor, but above all else, he loves coffee. I swear it must be pumping in his veins, along with a healthy dose of Cerveza Toña.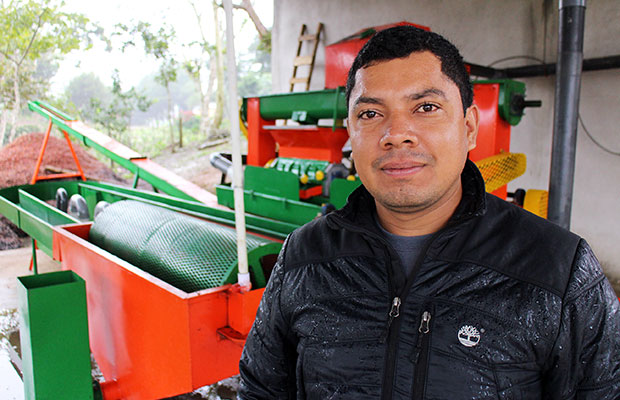 Francisco Javier in front of new pulping and sorting machines at his wet mill.
How long has your family been in coffee?
Sixty years. My grandfather, Benito Antonio, began planting coffee in 1960. Then my father, Leonardo, inherited that practice in the '70s. I grew up growing coffee.
I remember when I was 7 years old, I started helping my father, Leonardo, grow corn, beans, and sugar cane. But coffee was the most exciting thing for me. During vacation, while I was in primary school, I used to go to my father's farm to help him harvest coffee. By that time I was a capataz, a coffee cherry harvest supervisor.
In 2006, a few days before I moved to the United States, my father gave me 5 manzanas of empty land, so I decided to plant coffee. From the outstart, my goal has been to produce special coffee for people who really enjoy drinking good quality coffee. I have been very lucky to meet amazing people in the coffee industry with whom I have been established extraordinary business relationships. But even more important, we have an unbreakable friendship.
In the last 10 years, I have learned how to taste and evaluate coffee and I've come to learn that I really like good coffee! I had the opportunity to become a professional coffee roaster and today I am running a small operation in Nicaragua that is dedicated to source the best coffee in the area. But most of all, I am proudly a coffee farmer.
Tell us about your farm?
The climate is very nice! The temperature ranges between 70 and 85 degrees Fahrenheit. When you arrive to Finca La Amistad, you'll see that we are a small community made up entirely of La Familia Valle. My father, uncle, brothers, and cousins all work here. They also have small coffee farms right next to Finca La Amistad. We share the employees, to harvest the coffee cherries, to operate the wet mill, so it helps us be consistent with quality and centralize the crop.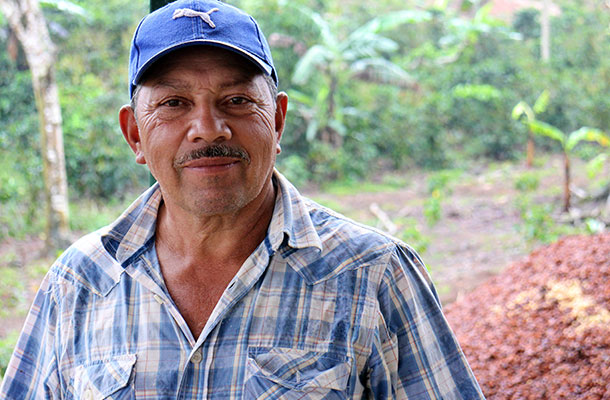 Francisco Javier's father, Leonardo.
But there is always time for fun too! We have a grassy area where we play baseball and football in the afternoon. After a hard day of work, all my friends and family get together to have fun.
What's a good day like there?
A good day at Finca La Amistad is when the sun is shining at 6 in the morning. Everything is easier when it is not raining. Coffee pickers make their way to the coffee plantation with big expectations, people who work at the wet mill begin washing the fermented coffee at 7:30 in the morning after checking that the coffee is properly fermented. Good stories are exchenged between people from all over Nicaragua.
At 4 PM, the supervisor says "Vámonos!" ("Let's go!"). This means that it's time for measuring everyone's coffee collection from the day. All coffee pickers are excited because when it isn't raining they can pick a lot of cherries, so they get more money! By 5 PM it's time for fun! All the workers get together to play baseball or football. Sometimes La Amistad's team gets challenged from our neighbor's team. All this fun time is happening while at the wet mill all the coffee cherries picked during the day are being milled. At my father's house, there are people playing cards while a radio is blasting ranchera music. After dinner, the day is over and people get ready to do it all over the next day.
And what's a bad day like?
If it is raining during harvest, that's bad news. Some people decide not to pick coffee cherries because it is cold and muddy. The people who do face the rain get dressed for the conditions, some of them with rain capes, others just cover themselves in plastic tarps. When it's raining, the coffee cherries swell and open up, even though they are not ripe enough. This is not good for the coffee. On rainy days like these, coffee pickers won't collect many cherries. Also, there's no time for fun, no one goes to play baseball or football after the harvest.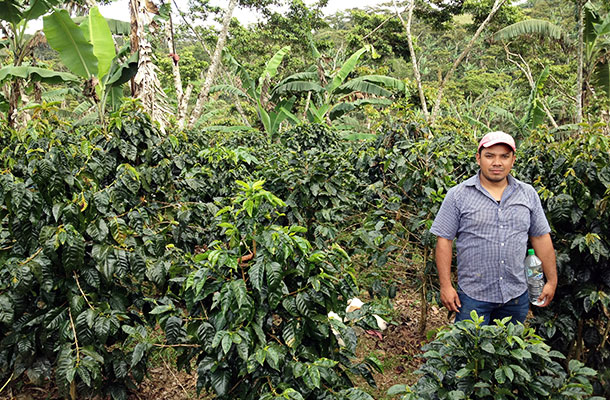 Francisco Javier stands with some of his coffee plants.
What's new at Finca La Amistad?
This year we did a soil analysis to determine what the plants really need. And we began a fertilization program that is focused on the foliage. According to our adviser on coffee production, it takes two years to see changes in the soil, but if we use foliage analysis, it only takes about 45 days to see changes. We found that the soil at Finca La Amistad is well-balanced and suited to produce coffee. This year I am expecting to have a big crop. The coffee cherries seem very healthy, well grown, great and consistent size.
What surprised you about coffee culture living in the US?
It surprised me how much people love coffee. They even wait in long lines to get a cup! I remember people waiting outside of a coffee shop for the doors to open. It confirmed to me that coffee is very important. Also, it was new for me to see and learn how to make coffee using different methods such as Melitta, Beehouse Dripper, Chemex, and French Press. Coffee is a fest, and a lot of people are going to the party.
What's coffee culture like in Nicaragua?
Coffee producers drink the worst coffee. We sell all our best and we keep the worst for us! Also, while roasting coffee, there is not much knowledge about the roasting process. No one cares about it. Because the coffee tastes so bad, people fix it with a ton of sugar. It is a shame. I think that part of the consequence of this situation, this lack of coffee drinking education, is that people aren't motivated to drink good quality coffee, and I don't blame them. They are so used to drinking bad coffee, so when they taste something different, something good, they don't like it. Most of the time people aren't open to change.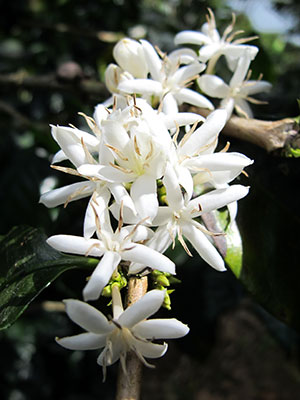 Do you miss anything from the US?
Biking, drinking a Kenyan coffee made in a Chemex, and I miss drinking IPAs with my friends!
What else would you like the people drinking your coffee to know?
Coffee is beneficial not only to the owner of the farm, but also generates many jobs for families in rural areas. We take great pride in this responsibility, and all our coffee is shade grown and has been produced with a low use of chemical products that could affect the soil. Delivering a quality product is my priority, so we have worked hard to train our coffee cherry pickers, and we built an ecological wet mill to process our coffee with minimal use of water without compromising quality. Moreover, for this coming crop, we will be drying all our coffee on African raised beds to make sure that the coffee doesn't suffer any damage during the drying process and also to make sure that green coffee maintains its integrity longer. I thank you all for your support and thank you for being good coffee drinkers. Salud!