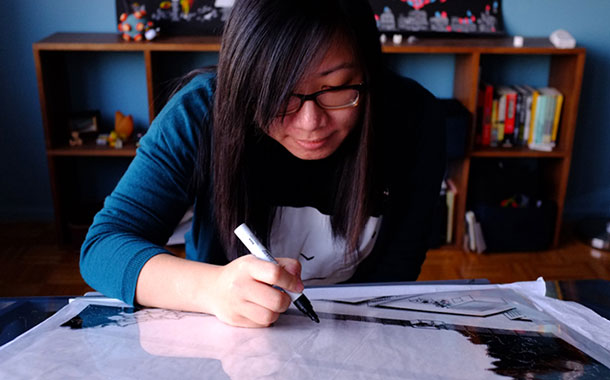 We love Kim Ku's work so much here at Tonx, we commissioned her to illustrate one of our shirts. Her iconic coffee spirits have been the subject of much debate among Tonxians, so we decided to ask her about them. She kindly agreed to do an interview with us from her New York studio. We started by asking her about how she found Tonx.
How did you first discover Tonx?
I first met Tonx while working at Harvest, a New York tech company that makes an invaluable time tracking tool. A friend of mine there knew I loved screen printed things and showed me the Tonx packaging. It instantly charmed me. I adored it so much that I wrote a blog post about this beautifully crafted box and that's how Tony from Tonx found me. He emailed, said he liked my work, and wanted us to collaborate. And soon enough, we did!
How did you become a designer and illustrator?
From a young age, I've always loved to draw on paper, chalkboards, in the dirt, and even on MS Paint. In high school, I fell in love with computers and taught myself how to design websites and even put my portfolio online. Not long after, a writer actually found my website and asked me to illustrate his short stories. That ended up being my first paying job! It was an epiphany that I could make a living out of this, so I kept drawing and designing and it eventually turned into my career.
Any advice for aspiring artists out there?
I'm still learning this myself, but a creative career is about the journey. If you feel like you're not where you should be, keep working and people will notice your efforts.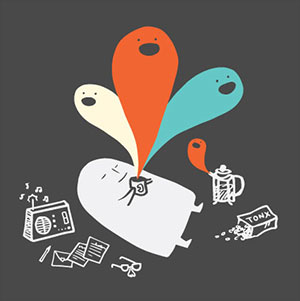 You did these adorable little guys we've dubbed "coffee spirits." What's their story?
I call them ghosts in my books and illustrations. I like to think of them as your cool cousins who would take you to your first concert. They're supportive creatures who only want the best for you.
Living in a densely packed New York City definitely inspires how and what I draw. I like to create detailed, line-heavy environments where people are encumbered in their daily activities in a loud busy space. Meanwhile, the spirits are laying about, enjoying the every day. Since the spirits are designed as brightly color blocks, they're the most visually contrasting part of the scene. Which is ironic I know, they're ghosts after all.
For me, I like to see the carefree spirits as a good reminder that taking time out to enjoy the moment is important and good for you.
What's your relationship with coffee?
It's comfort food. My parents would always have a morning pot brewing so that ritual was engrained in me from a young age. When I need a break from work, I'll decompress over small sips of coffee and a pastry at a local cafe. I usually get my coffee black with sugar and my favorite seat is the couch by the window.
What have you been working on lately?
If you enjoy ghost stories, I've been making some for an app called Tapestry, which is a storytelling platform. It's been fun playing with narrative and I especially loved making crazy gifs. You can read them here.
They're so great! How do you come up with your ideas?
It's mostly a subconscious thing, but I enjoy planting unexpected oddities in every day objects and situations. It's like an inside joke for people who are paying attention.
Thanks so much for collaborating with us. You're pretty much the best.
Let's just say it. #Besties4Ever.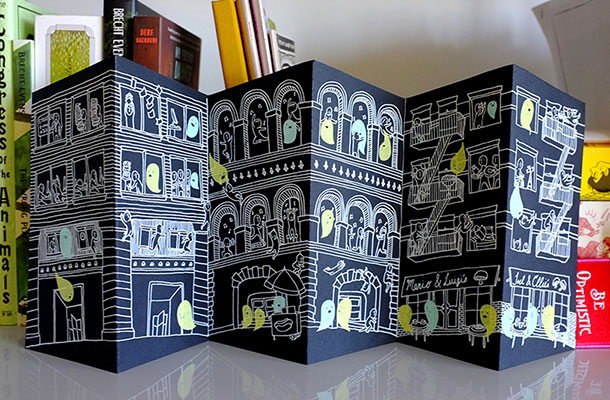 To see more of Kim Ku's work, visit her website. Want one of her Tonx shirts? Step right this way.