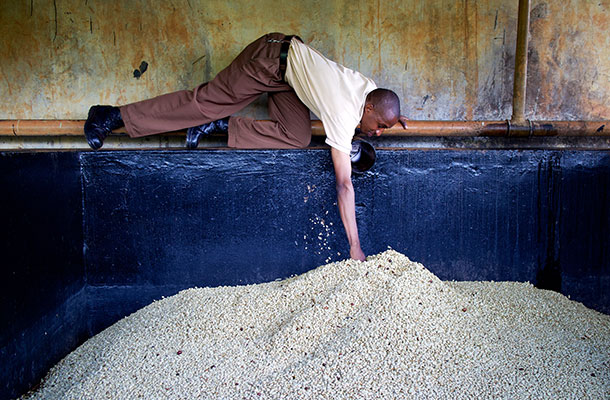 Timothy checks the fermentation progress at Kabingara.
As Tonx's coffee buyer, I'm often asked where the best beans come from. With about 25 million farmers in the world, that's nearly impossible to determine. I usually say, "Oh, they're all good!" If I'm feeling a bit more sophisticated, I indulge with something like, "The best coffees from a country are as good as the best coffees from any country." If I'm in good company, I'll admit that I think four countries stand above the rest – Colombia, Ethiopia, Guatemala, and Kenya. But if you got inside my head, you'd realize that there's one origin that I think is nearly a flawless producer of exceptional quality in a way that no other country can touch: Kenya.
I have been tasting coffee professionally for about 15 years. Over that time, I've learned that certain traits in coffee are the result of accidents that reflect poor practices, be it at the farm, the wet mill, the various drying mechanisms, the dry mill, or the domestic warehouse. I'm usually able to detect something that signals a slip somewhere, even in the best coffees. There are so many steps involved in making great coffee. No one person has control over the whole process and it requires cooperation and trust at every step of the supply chain. Mistakes are inevitable.
But Kenya represents the closest thing there is to perfection. Coffees from Kenya are ripe, cleanly processed, expertly milled, and packaged to defy age. Everything about the cup is a souped-up version of what I look for in any origin: sweetness, flavor, and body. The sweetness will show a backbone of caramel or honey or golden raisins. A coffee from Kenya will have bright acidity that catalyzes flavors ranging from grapefruit to cassis, and finish with floral or bergamot notes. The body is always big and syrupy, and doesn't allow the complexity of flavors to fade away. It is ready to defend its intrinsic profile qualities on all fronts.
When I talk with other coffee pros, "cleanliness" is the word that comes up most often. It's effective jargon to describe the care that goes into maintaining the inherent flavors and qualities of a coffee bean and its terroir. And Kenya has lots of it. "I love coffee from Kenya because of the craftsmanship," says Aleco Chigounis of Red Fox Coffee Merchants in Oakland, California. "No other coffee-producing origin has the commitment to cleaning coffee like Kenya does. They bring heavy flavor across the board, from the aromatics to their ripe fruit core, from sweetness ranging in caramelization to honey, and of course, more ripe fruits."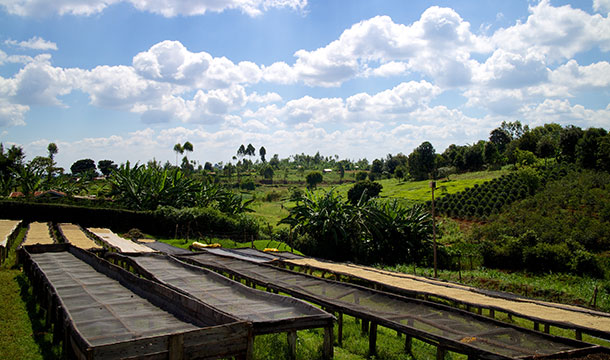 Kirinyaga provides ideal elevations and stunning views.
Why exactly Kenyan coffees are so special is a matter of debate. Mette-Marie Hansen of Dorman's Coffee in Nairobi, Kenya, attributes it to a combination of elements. "There has been a tremendous focus on outreach in Kenya, both from NGOs and exporters, so farmers often have access to training programs through their co-operatives. In addition, the high elevations and the natural soil composition provide excellent growing conditions. Our quality control is meticulous. We taste and review thousands of lots every week. It makes us able to pick the best lots with confidence."
Aleco is more inclined to credit the processing. "It is the most detailed in the entire industry with the twice fermented, twice washed, soaked, and twice dried beans being likely the most affected in all of coffee. Along with the special SL varietals, it's the processing that gives us such a unique, weighted perspective of flavor with Kenyan coffees."
Kabingara from Kirinyaga is one of these unique coffees. Brimming with flavors of grapefruit, blackberry, and tamarind, the Kabingara will not lack complexity in its blunt presentation of fruit notes. As it cools, floral notes will linger, and a graham cracker sweetness will come in for the finish.
Regardless of what makes Kenyan coffees so special, it's remarkable how loud they shout their flavors. "If Ethiopian coffees are the subtly nuanced, noble Burgundy style coffees of our world, then Kenyas are the opulent and prolific Bordeauxs," says Aleco. "These are coffees for people wanting that undeniable flavor experience versus having to put more effort into deciphering the flavor codes of others."
Mette-Marie puts it more simply. "Every time I taste a very good lot, I have to smile, because they are really amazing coffees."

Agitating the coffee through channels to clean the beans.