April 7, 2014
Today we're very excited to announce that Tonx is joining forces with Oakland based coffee roasters Blue Bottle Coffee to further our mission to bring great coffee into more kitchens.
It was nearly three years ago that Nik and I founded Tonx out of the trunks of our cars, calling in some crucial favors, borrowing what we could, and tapping a lot of experience from our individual successes and failures. It was a small and quiet launch. Our very first handful of customers were good friends and family. As our customers have grown from the dozens to the thousands, we still feel a strong sense that everyone who gets our coffee is part of a big family, and that sharing in their coffee rituals is a great privilege.
As Tonx has grown we've added friends to the team, assembling top talents in green coffee sourcing, coffee roasting, software development, design, marketing, and customer service. One thing we lacked though was a dedicated production facility that would allow us to continue growing and improving. Getting there meant either raising a serious wad of venture capital (no picnic!) or finding a partner in the industry that shared our values and ambitions.
With Blue Bottle, we have found a more established company that still has an innovative startup culture, continues to evolve, and is dedicated to improving people's experience of coffee on an ambitious scale. And they have resources we could only dream of.
What does all this mean for Tonx customers?
- In the beginning, nothing much will change. We'll keep to the same production schedule, beans will arrive delicious, fresh, and timely. The digital engines of Tonx will continue to hum in all the familiar ways. Our commitment to quality, great customer support, and our oddball personality is here for the long haul.
- As we start to tap into and integrate with the Blue Bottle team and resources, we'll be able to expand our production schedule, explore more variety, do more limited releases, and offer many more coffee options for our customers.
- And most exciting for us is that many of the ideas we've had for taking the coffee delivery experience to the next level – ideas that have been collecting dust on our whiteboards and in our dreams – will begin taking flight. Further down the road we will sunset the Tonx brand and unveil a new and even richer experience closer to our original ambitious vision under the Blue Bottle banner.
To our friends, fans, and customers that have encouraged and supported us in this journey, we give much thanks. The Tonx team and our new friends at Blue Bottle are excited for what the future holds and eager to wow the world with delicious coffee.
- Tony "Tonx" Konecny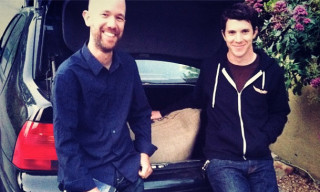 Tony and Nik with the first bag of Tonx green coffee in the trunk of their first "office", Summer 2011.