The first step is admitting you have a mug problem. Thrift stores, antique shops, late nights poking around eBay… I compulsively seek out classic, charming, or weird mugs to add to my cupboards. Over time I've had to become pickier and more discerning about what mugs make the cut.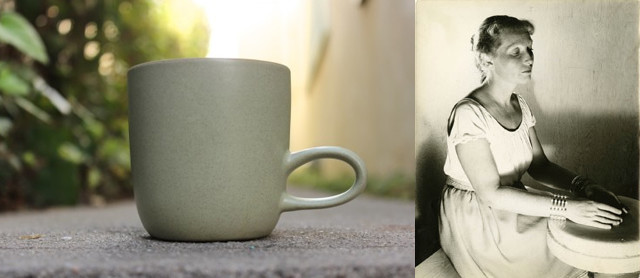 One of my favorite mugs in my ever-expanding collection is the Coupe line Studio Mug by Heath Ceramics. Edith Heath opened her famed studio in the 1940s making simple, modest, durable ceramics for the home. Like many other great designs of the mid-century modern period, Heath's works have remained fashionable and treasured. Heath's legacy continues today both at her original factory in Sausalito, California and showrooms in San Francisco and Los Angeles.
The first time a friend handed me a Studio Mug to drink out of, I thought it was a pretty weird design. A great shape and my ideal volume but why is the handle attached so low? I dismissed it as some inscrutably flawed oddity, less practical than my handful of vintage Heath stack mugs that I'd often bust out for special guests. But one day I found myself in Heath's showroom and while fondling and contemplating the odd design of this mug, a friendly clerk clued me in to the proper way to hold it.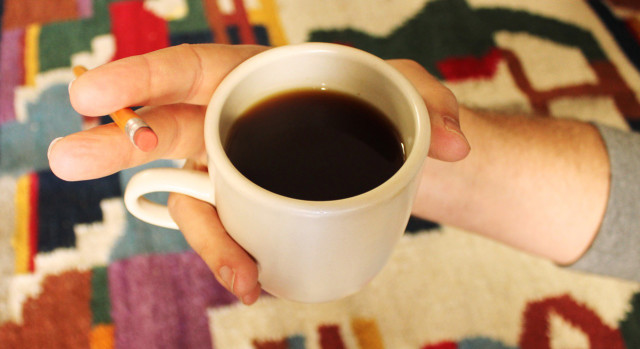 Edith Heath was a smoker. Her studio mug was made for the effortless multitasking of sipping and smoking, with the ring finger being slipped through the handle. Now it made perfect sense.
Though I don't smoke, I find that my Studio Mugs get a ton of use. Even without a cigarette in hand, there is something satisfying about holding my morning coffee this way. And it doesn't hurt that they're just the right size to hold a single Aeropress brew.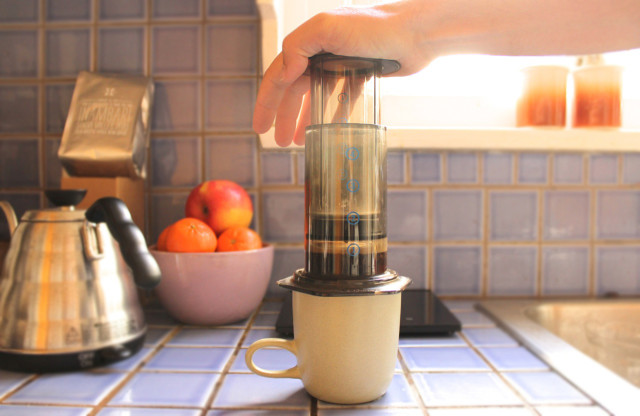 (interested Aeropressers should note that these mugs are handmade and slight irregularities will mean that not every mug's opening is precisely wide enough to fit this neatly on top).
Heath has a great website where you can score this and many other heirloom quality wares as well as explore their rich history.