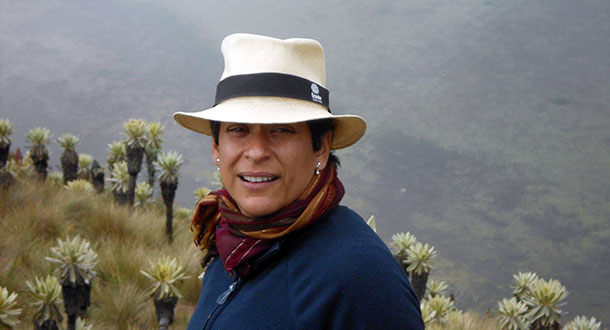 Ecuador seems to be one of the oft-forgotten origins of specialty coffee, overshadowed by the renowned quality (and ubiquitous marketing) of Colombia to the north, the massive production of Brasil to the east, and perhaps even the anomalistic micro-lots of Bolivia to the south. The truth is, Ecuador has the land and varieties to produce exceptional quality coffee.
Ena Galletti is in the middle of it. While her mother had coffee trees of her own, she avoided the coffee business until 2002. Now in Quito, Ecuador, Ena finds quality-focused producers and provides assistance by improving their quality, and helps them sell their beans to buyers willing to compensate them fairly for their extra efforts. Within Quito, she runs a roasted coffee company, Cafe Galletti.
Ena was responsible for bringing the delightful Perla Chiquita to Tonx, which we're excited to offer as a Limited Release. La Perla Chiquita is a delicious cup with flavors of tart cherry pie, lavender, and Darjeeling tea.
I recently chatted with Ena about coffee in Ecuador, her plans for 2014, and how opening a coffee shop saved her marriage.
How long have you and your family been in coffee?
My mother had coffee trees and would roast coffee for our own family 50 years ago. My brother now runs the family farm, though it produces coffee on a larger, more commercial scale. I married a New Yorker who could not find a job or good coffee to drink in Ecuador. So, to keep our sanity and save our marriage we opened a coffee shop in Quito in 1997, from then on we went ahead and decided to roast and mill coffee as well as provide exporting services.
Wow! So coffee saved your marriage?
My husband, Don and I decided to live in Ecuador because I simply couldn't imagine life anywhere else.
I am a lawyer and had a good job back in 1997. Don couldn't find a job in Ecuador because he's a nuclear mechanic and there are no nuclear facilities in Ecuador. We decided I was going to work and provide and he would be the house husband. It all sounded so good, until Don started to get moody because he couldn't find a single half-decent coffee shop in all of Quito where he could drink coffee and listen to some jazz in peace. We started having arguments, so I burst and told him to get a job if he was so unhappy. The subject was a prickly one; all he really wanted to do was smoke and drink coffee while listening to jazz. So I told him to go ahead and open up his own shop. As you see, he ended up doing just that.
I was working hard at the time because the coffee shop did not make enough money to pay for itself. This is at least partially because he served Illy and Lavazza, which was very expensive to import all the way from Italy. Eventually, this led to problems problems with customs because they wanted a bribe to let the coffee in without opening the bags, so he decided he would roast his own. Of course, there wasn't enough money to import a Probat from Germany like he wanted, so he built his own roaster, too. Soon enough, we were selling to hotels and restaurants, which created the need for an even bigger roaster. This time we found a refurbished 120kg Probat from Colombia and installed it in our backyard.
Trouble started when Don's small coffee business started expanding rapidly, which was complicated further by the fact that he couldn't manage to learn Spanish. I quit my law practice and started working with him back in 2002. I didn't really know much about coffee, so I had to start off from scratch. It took years of trial and error to learn everything from planting trees to cupping samples. It soon became evident that good coffee was the result of the implementation of educational programs to develop a network of coffee growers.
We found that some coffee producers have much nicer coffees than what the local market could afford, so we invested in a dry mill to process those coffees properly, and started to offer them internationally, at which point we had to give up the rest of the backyard for the dry mill. You could say that we work where we live. Or maybe we live where we work...
The farmers liked our model of business since we break down the price and explain to both parties where the money goes, which helps the farmers get a better price for their coffee while we get a fair fee for our services and the buyers have the certainty that they are buying directly from the producers.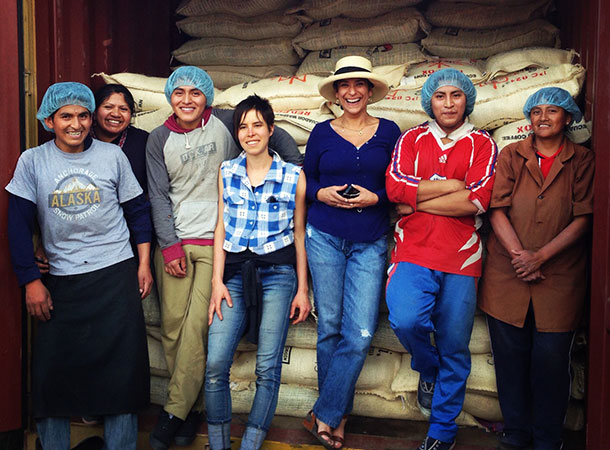 Ena Galletti (third from right) and her team pack a shipping container for its trip.
What's a good day like on the farms?
Every day is a good day on a coffee farm. For me, the best day is the day the milling starts because I feel I am closer to the coffee and the producer feels he is closer to the money!
What challenges are you dealing with in your work?
Challenges are what we face every day in the coffee biz in Ecuador. Traditionally, the coffee producers have been just cherry pickers, but good coffees require knowledgeable and devoted growers that monitor every step of the way. To help them understand that high quality is the best way is a long, involved process.
What are you excited for this upcoming crop?
This coming crop we will be sourcing new coffees from the north of Ecuador. The cup profiles there follow the path of the celebrated Nariño, Colombia coffees, but with the sweetness that defines the best Ecuadorian coffees. We are very much looking forward to tasting these coffees.
What's coffee culture like in Ecuador?
Like in most of the producing countries, the best coffees are exported, so even the farmers drink instant coffee. There is an awakening of the coffee industry and the government is supporting the implementation of more coffee plantations. There is so much to do, but life is generous to us Ecuadorians. We have a tremendous variety of soils and climates and people, and I think that Ecuadorian coffee somehow shows that variety.
Everything is little in Ecuador – our coffee producers have small plantations and produce micro-lots that are milled in a mini-dry mill because we can not afford the overhead of wasting money on a gigantic mill.
Everything is little in Ecuador?
Ecuador has little more than 264,000 square km. Within that we have rain forests, cloud forests, the Andes, a coastline and islands. Our farmers regularly have between 0.5 and 3 hectares of land devoted to coffee vs an average of 400 hectares in Brasi. Ecuadorian producers harvest between 5 and 40 sacks of coffee each, resulting in less than 0.01% of the coffee grown worldwide, and only 12,000 sacks of specialty coffee.
To process these small lots we have a small mill that handles anywhere from 300 to 500 kg of coffee per hour. We have to blend the coffees lot by lot when the buyer wants a larger amount of a certain profile. We cup each and every lot several times so it ends up being an ants job to get everything done. Quality assurance, indexes of efficiency, and client satisfaction are in Don's and my background. We have an efficient and prepared crew of workers, five of them coming from the same indigenous community.
We have a small property in northern Ecuador with a wet mill that provides services to the farmers in the area where we are pioneers in coffee production. Much like our fellow farmers we have a hectare of land with coffee, our facility there mills 500 kg of coffee per hour, A friend called it a "beneficio de juquete" (toy mill). We have a couple there running the mill for us. They are young and enthusiastic and immensely helpful.
What else would you like people drinking your coffee to know?
That our farmers are not poor because we pay among the best prices of all the coffee producing countries. That in Ecuador, growing coffee is a choice because this land is so rich that you could grow just about anything. That we cannot afford to produce low quality coffee because we are not competitive and that unless we get a fair price for our coffees the young people are not going to pursue coffee production.