"It would get really hot in the shed, so I kept the door open, and I usually blasted opera from my little stereo."
—James Freeman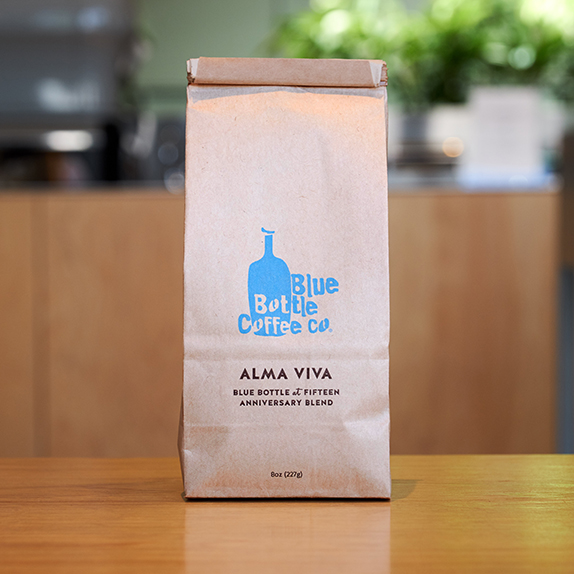 The first blend our founder and CPO James Freeman ever made for Blue Bottle Coffee was born of arias and heat. Alma Viva, he called it, so named after Count Almaviva in Mozart's The Marriage of Figaro. The opera, a beloved comedy, follows the Count after he has courted and married his love, Rosina. As happens in comedy and drama alike, the Count's love for his wife migrates to the unsuspecting (and betrothed) Susanna.

It wasn't the Count's shenanigans that inspired our first blend, but rather the duet between Susanna and the Countess. Like so many operatic moments, Act III, Scene 10 is transcendently beautiful—despite the fact that the two women are scheming to trap the Count in his wayward passions.
The original Alma Viva struck a similarly intricate harmony between two organic coffees, one from Mexico, the other from Costa Rica. James mélange roasted the coffees, a method in which each component is roasted separately before being blended. Unique qualities are brought out by the different roasting times to create delicate layers. We don't often do this type of roasting anymore, but for this reissue of our original blend, we wanted to create the same layered effect in an otherwise dulcet cup.
The Peru coffee is more developed in its roast, while the Colombia retains a lighter profile. When blended, they create a clean, mildly fruited coffee that is, like Susanna and the Countess's duet, incontestably delightful. After trying it, you may say, just as Count Almaviva does: "My contented heart now feels full of joy!"
This month, we're celebrating fifteen years of making delicious coffee.