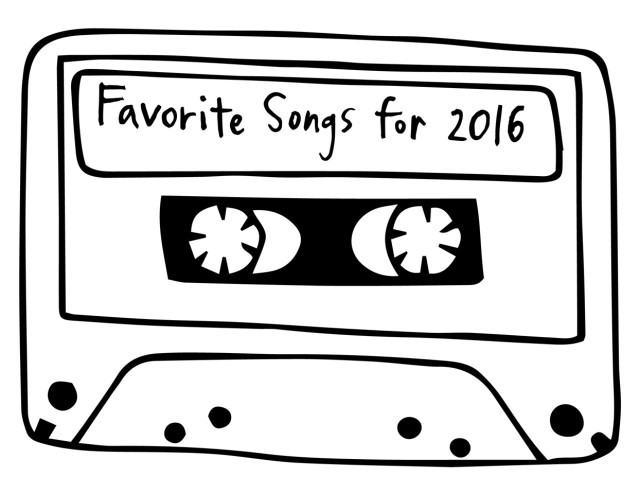 We're a few days into January, but the excitement of the new year is still palpable. Our cafes are abuzz with energy, our coffee buyer is planning faraway journeys to discover new farms, and our culinary team is gearing up for a bountiful season of savories and sweets to unveil across cafes.
To our loyal guests near and far (and coffee compatriots everywhere!), thank you for sharing this delicious journey with us. We can barely contain our gratitude, and as a sign of our best wishes to you in 2016, we're (joyously) offering complimentary shipping Wednesday and Thursday of this week.
As we bade farewell to 2015, we asked a few Blue Bottlers to send us a list of the music that's helping them usher in the New Year.
It's no surprise that our eclectic and creative team came up with a list that runs the gamut of musical styles and personalities—a little Philip Glass with your Nina Simone, anyone?
We hope you swagger, strut, hum, and skip your way into 2016. And we're happy to get to do it alongside you.
Cheers!
Our Favorite Songs for 2016
Ain't Got No, I Got Life, Nina Simone –Jason Marmor, Manager, Mint Plaza
All Night Long, Lionel Richie –Jen Flaxman, Learning & Development Specialist
Brand New Sun, Jason Lytle –Arion Paylo, Director of Design & Development
California Soul, Marlene Shaw –Alex Chan, Director of Finance & Strategy
Left Alone, Mal Waldron –Bryan Meehan, Chairman of the Board
Dancing in the Dark, Bruce Springsteen –Caitlin McGinn, Retail Initiatives Specialist
Feeling Good, Nina Simone –Hedy Macferran, Director of Culinary
From Gurrelieder, Part One: Orchestral Prelude, Arnold Schoenberg, Berliner Philharmonic –James Freeman, Founder & CEO
Having a Party, Sam Cooke –Rose Hogan, Community Specialist
Islands in the Stream, Kenny Rogers & Dolly Parton –Michael Phillips, Director of Training
New Age, Blitz –Maddie Clark, Production Designer
Strangers, The Kinks –Vera Kachouh, Senior Writer
String Quartet #3 (Mishima), Phillip Glass, Kronos Quartet –Benjamin Brewer, Quality Control Manager
This Must Be the Place, Talking Heads –Vanessa Gates Mowell, Retail Initiatives Manager
Wild Imagination, Kurt Vile –Brett Garrett, Regional Director of Retail, Southern California
While you're listening, browse our coffee, brewing gear, books, bags, and more. Go ahead, get cozy.