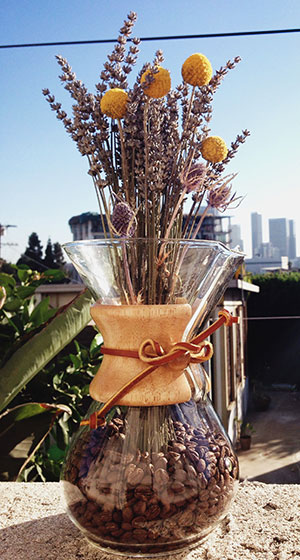 I fell in love with her almost immediately. She wasn't my first, but our chemistry was instant and undeniable. I even debated naming her. My Chemex always seemed like a Kelsey to me.
We've been through some stuff, Kelsey and I. She was there to save me from hangovers. She was the centerpiece for any shindig I had. She worked shifts with me at coffee bars. We even traveled together. But our strange relationship is not the only reason I love her.
The Chemex is an elegant device, inspired by laboratory equipment in the early '40s by inventor Peter Schlumbohm. Some say he designed his coffeemaker to impress his lady guests, though now it looks more Walter White than Barry White. Others say it was just a part from another one of his inventions. Either way, the Chemex still looks good for being a septuagenarian.
Seventy years is a long time to go without an update, especially while coffee itself is changing rapidly. The standards of brewing today have blast by old expectations. So how does the Chemex continue to remain relevant, even beloved, among so many coffee geeks? Whether he knew it or not, Schlumbohm created something crammed with sweet features.
That glass. Made from borosilicate glass (same stuff as Pyrex), it's durable and thermal shock resistant. They're very hard to break, and even if you do manage to smash one, you'll end up with large pieces instead of tiny shards.

Wood "collar and tie." The wood is beautiful, but it also makes a great handle, staying cool when the glass gets hot.

The filter. It's thicker and more durable than most paper filters, so it will withstand just about any technique. It also helps give the coffee a clean, silky body.

Size matters. Available in many sizes, most pick up the 6-cup version which is ideal for brewing just for you and big enough if you're feeling generous.

The spout. There's a channel running up the top half of the Chemex. Obviously this is to get the delicious stuff out, but it also helps keep the airflow consistent. Combined with the thick filter, this makes the Chemex nearly foolproof.

Timeless beauty. Inspired by the Erlenmeyer flask, the Chemex has become an icon of coffee beauty.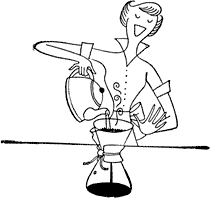 Brewing with the Chemex is as simple as you can get. The filter, coffee, and water go on top, coffee comes out in the flask below. As long as you've got quality beans, it's no sweat making yourself a cup of coffee you can be proud of.
There's nothing particularly tricky about it, but here are my top three tips for Chemex brewing.
Before you brew, put the filter in and run hot water through it and then pour it out. Because the Chemex has that thick filter, you want to be sure to get rid of any papery flavors. Rinsing your filter will also help preheat the Chemex.

Make sure the 3-ply side of the filter is on the spout side. The thickness helps keep the filter from collapsing into the channel and slowing down the awesome airflow.

As you pour the water in, grab a spoon, shank, chopstick, or whatever is nearby, and gently stir the grounds as they bloom. This helps ensure that all the coffee gets wet, which will help you get a more evenly-extracted cup.
Getting good at making coffee with Chemex is very rewarding. It produces a cleaner, more nuanced cup, perfect for sharing. It looks gorgeous in your kitchen, and doubles as a flower vase when you're already caffeinated.