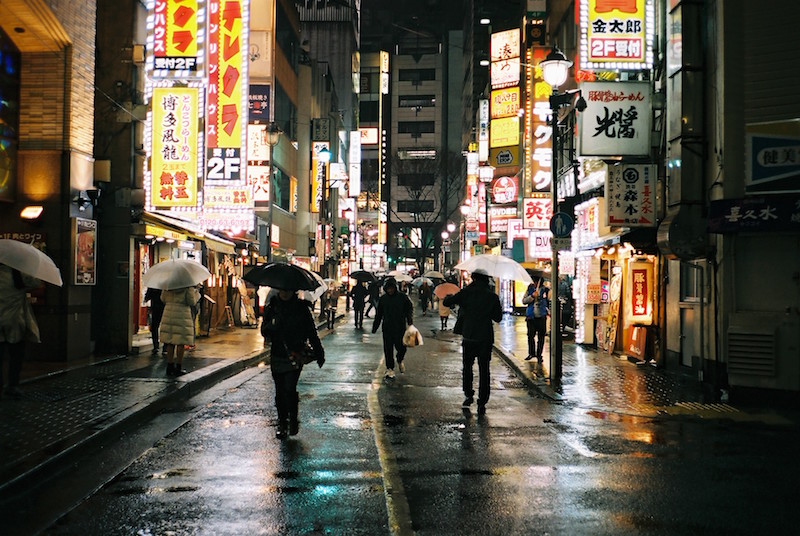 Like the coffees we serve, Blue Bottle brings together all kinds of people, from the guests in our cafes to the baristas, roasters, and bakers that serve them. We have noticed, however, a trend in our ever-growing family. As Andrew Curry, one of our New Store Coordinators, observed: "Blue Bottle employs many artists and writers and musicians. We're unique in that way—a community of creative people with different capacities and interests."
Though now based in Tokyo, Andrew joined Blue Bottle back in 2013, long before we opened our inaugural Tokyo cafe, Kiyosumi. "My very first shift was at the Ferry Plaza Saturday farmers market in San Francisco," says Curry.
Andrew had never worked as a barista before, but he was hooked on founder James Freeman's unassuming but passionate dedication to delicious coffee. "I had always wanted to learn about coffee, and the farmers market was my introduction to that world. It's unique unto itself, and a great first experience."
It wasn't just the coffee that appealed to him. "I had already liked Blue Bottle a lot, and I felt like I connected with James' vision, the aesthetic and values of Blue Bottle," he says.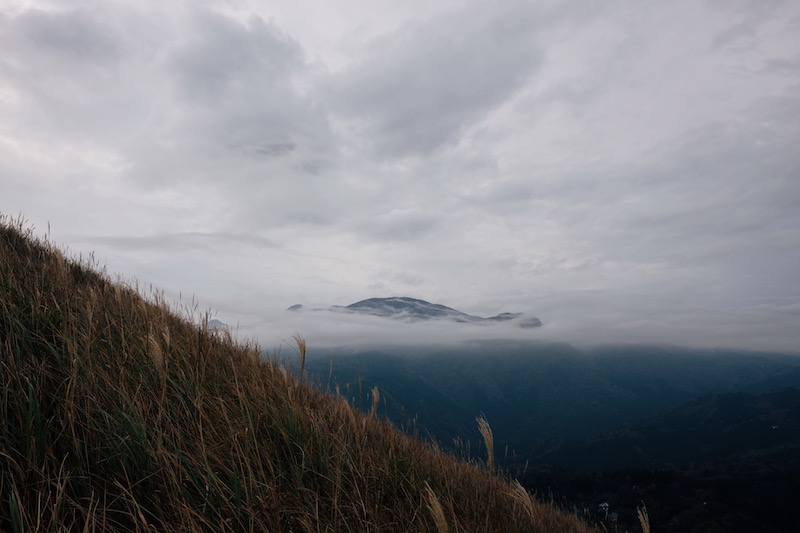 It comes as no surprise that Andrew, a professional photographer, took aesthetics so seriously. "Photography is really a driving passion for me," says Andrew. "I grew up skateboarding and that was my creative outlet from when I was twelve through my mid-twenties. A few years ago, I had some free time for a few months in between jobs. I needed a creative outlet—I was still skating, but needed something more. So I started taking pictures on my walks around LA. For me, it's similar to skateboarding in that when I'm doing that, I'm constantly scanning my environment for things to skate on. It's the same with photography: I'm always kind of looking around and trying to see unique angles or something different. After that, I started taking photos all the time, every chance I got."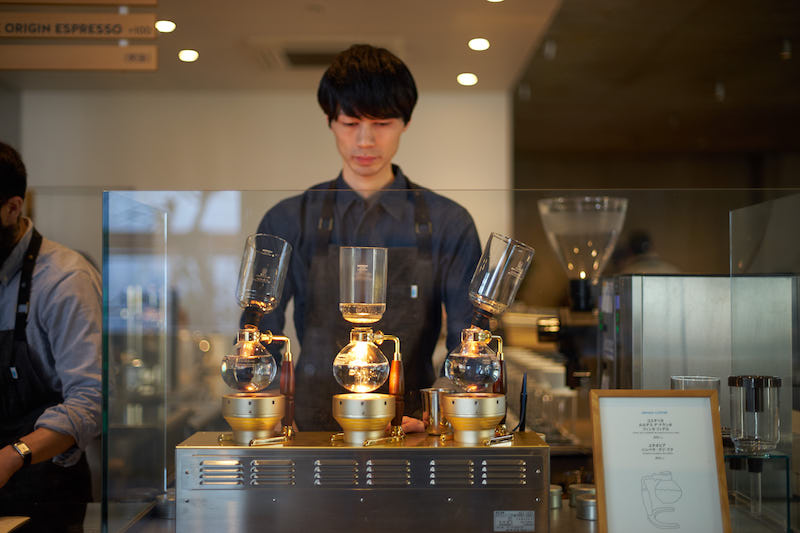 He brought that passion with him when he moved to San Francisco shortly thereafter. Once he joined Blue Bottle, it wasn't long until a once-a-week shift at the farmers market became a full-time role at our Ferry Building cafe. Six months later, he was applying to be an assistant manager there, but with a caveat: He had heard that Blue Bottle was making plans to expand to Tokyo, and he wanted in. Having lived there for two years during college, Andrew was already familiar with the language and the culture, and was captivated by the city. "I told them that if there was ever a possibility to move there, I would take it," he said.

By December 2014, Andrew was back in Tokyo, helping to lay the groundwork for the new cafes, starting with Kiyosumi. While such a drastic relocation might have seem risky to some, Andrew was as excited by Blue Bottle's growth as he was by the creative opportunities it provided him.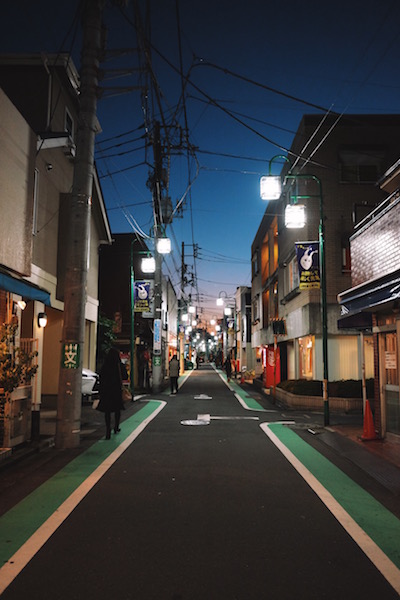 "I'm inspired by the density of cities," he says, "by how much and how many things can be packed so tightly together, and yet within that space you find signs of quiet life. People in front of their house nurturing all these potted plants—so many different kinds—that bring a human element to this concrete city. Photos capture those subtle reminders that we can build these big cities, but that we're also still humans seeking out nature in the end."
To maximize exposure to his muse, Andrew does a lot of walking. "I live about forty-five mins away from Shinagawa, and I walk to keep connected. The trains do get really busy," he admits, laughing, "But I just love walking because it allows me to really slow down. I've been thinking about getting a bike, but if I do, there's going be so many things I'll miss. I love taking Tokyo's small alleys because you never know what you're going to find." Many of these discoveries can be found on his Instagram.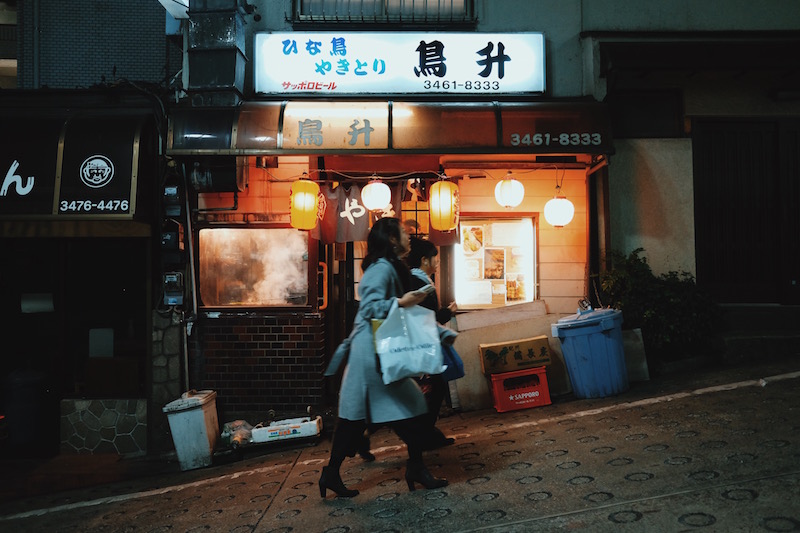 Since his move, Andrew has also begun working with Blue Bottle as a photographer. He's taken photos for our social media, website, and even our holiday parties. His creative instincts fit in perfectly with the aesthetic he's always admired, and he notes that being encouraged to follow those instincts is yet another reason why he feels so supported as an artist.
"People at Blue Bottle know I love photography, that it's a major driving force for me. James and [CEO] Bryan are really encouraging. They care about good design, and they support my values and what I care about. That kind of creative freedom allows me to feel confident about my work, knowing they're not going to want something that's forced or inauthentic. James has told me before that he wants me to shoot how I want to shoot. It's an amazing thing."
Join our team of hardworking and creative people. Visit the Careers page for current opportunities in each of our home cities.