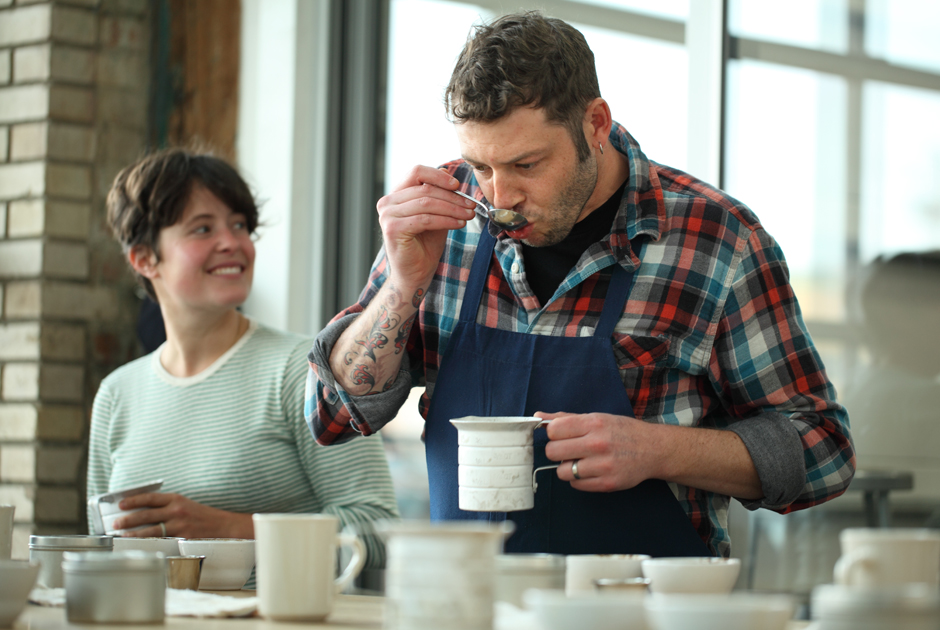 We offer free public discussions and cuppings of our coffee every week.
In the Bay Area:
Webster Street - Sundays at 2 pm (To guarantee a spot in our Webster Street cupping, get a free ticket here.)
Heath Ceramics - Thursdays at 11:30 am
In New York:
Berry Street roastery - Fridays at noon.
Chelsea - Saturdays at noon.
In Los Angeles:
Arts District roastery - Tuesdays at 2 pm (No reservations are necessary, but due to space constraints, we can't accommodate more than 25 people at a time.)
We offer free brewing classes at our W.C. Morse café in Oakland.
Home Espresso Classes
Saturdays from 12 – 1 pm and 2 – 3 pm (curriculum varies)
Classes are held every week and are a great opportunity to try your hand at pulling a shot or pouring latte art for the first time, or learn a new technique to apply to your machine at home. Curriculum varies week to week; more information and sign-ups here.)
Drip Coffee: Bonmac Pourover
Tuesdays 4 – 5 pm
Learn how to do pourover the way we do in our cafés! This intimate class is hands-on from beginning to end, and will equip you with the techniques we use to find the best flavor possible in our drip coffee. You can find our sign up sheet in the café, or feel free to email daniell@bluebottlecoffee.com to sign up from afar.