Experiences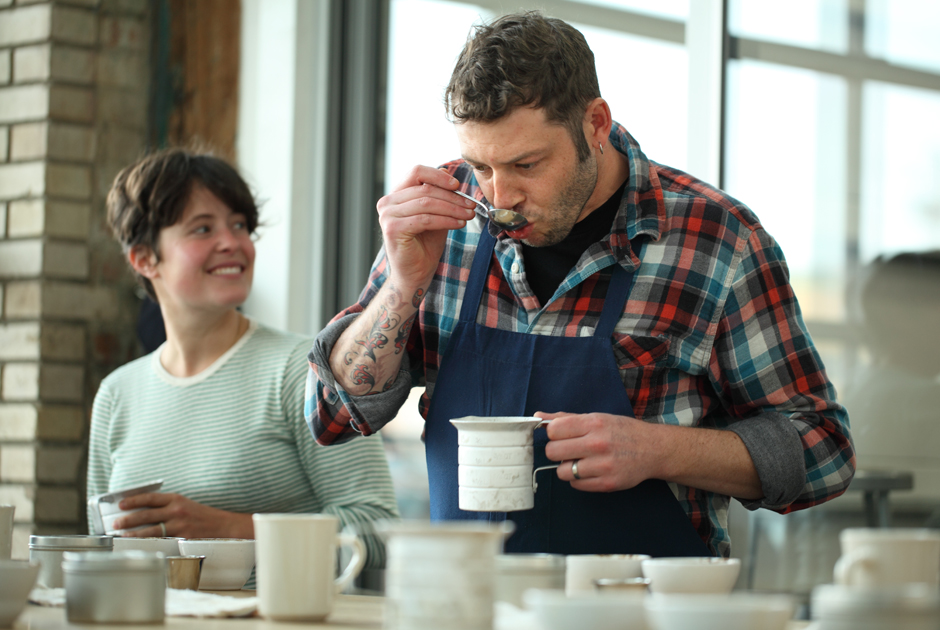 We offer free public discussions and cuppings of our coffee every week.
In the Bay Area:
Webster Street - every Sunday, we host free public coffee tastings at 11am and 3pm; and "How to Brew" series at 1pm. Get your free ticket here.
Heath Ceramics - Thursdays at 11:30 am
In New York:
Berry Street roastery - Thursdays at noon
Chelsea - Saturdays at 2 pm
In Los Angeles:
Arts District roastery - Every 2nd and 4th Tuesday at 2pm. Please sign up at: bluebottle.co/brew-la.
We offer free brewing classes at our W.C. Morse café in Oakland and our Chelsea café in New York.
Home Espresso Classes at W.C. Morse
Saturdays from 12 – 1 pm and 2 – 3 pm (curriculum varies)
Classes are held every week and are a great opportunity to try your hand at pulling a shot or pouring latte art for the first time, or learn a new technique to apply to your machine at home. Curriculum varies week to week; more information and sign-ups here.)
Drip Coffee: Bonmac Pourover at W.C. Morse
Tuesdays 4 – 5 pm
Learn how to do pour over the way we do in our cafés! This intimate class is hands-on from beginning to end, and will equip you with the techniques we use to find the best flavor possible in our drip coffee. You can find our sign up sheet in the café.
Home Brewing Classes at Chelsea
Saturdays 2 – 3 pm
Chelsea offers a rotating set list of home brewing classes! From Aeropress to Chemex to drip, we go over the basics, focusing on a different brew method each week. Take a look at the calendar of upcoming classes and email nyclasses@bluebottlecoffee.com to save a spot in advance!