Events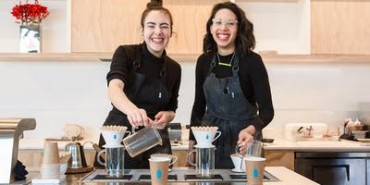 [Learn more about us!] Careers in Coffee: Baristas – Washington DC
Thursday, July 12, 2018, 3:00 pm - 4:00 pm
5th Floor, Room 3, Boston, MA 02116
We're Hiring Baristas
Every day, our baristas create delicious coffee drinks that make people happy.
Join us to learn more about our current Barista openings in Washington DC. We are currently hiring at Georgetown, Union Station, The Wharf, Logan Circle, and our soon to open cafe at Midtown Center. During this hour, you'll meet our Recruiting team, learn about life at Blue Bottle, and hear about our employee benefits and coffee training programs.
Bring your resume, a passion for coffee, and eagerness to learn (barista experience not required). Please arrive promptly at the start of the event.
Can't attend or have questions? Contact careers@bluebottlecoffee.com. 
------------------------------
About Blue Bottle Coffee
In our eyes, coffee's main purpose is to be delicious. Every day, we go to great lengths to ensure this: We source, roast, taste, and prepare coffee with the intention of drawing out its best characteristics.
We also think delicious coffee is deeply rooted in strong community, which is why we work directly with farmers around the world to source our coffees as sustainably and ethically as we can. Roasted to our exacting flavor standards, we serve them to you at peak deliciousness—hopefully alongside good conversation.

Our People
Our people are a kind-hearted and eclectic group of coffee experts, artists, writers, sensory scientists, bakers, designers, and all-around dreamers.
Click here to reserve your spot.