Events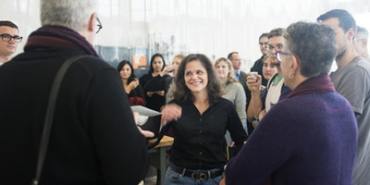 Coffee with Aida Batlle
Saturday, September 16, 2017, 1:30 pm - 2:30 pm
3818 NE 1st Ave. , Miami, FL 33137
** EVENT ON HOLD UNTIL IRMA PASSES. STAY SAFE, MIAMI **
COFFEE WITH AIDA BATLLE 
An exclusive Miami opening event
-
Join us as to celebrate the opening of our first-ever Miami cafe and meet superstar coffee producer, and longtime Miami resident, Aida Battle. 
Batlle became an overnight celebrity when her Kilimanjaro coffee swept the international Cup of Excellence competition in 2003. Almost fifteen years later, she remains one of the coffee world's greatest talents thanks to her uncompromising standards and dedication to deliciousness. She is one of our oldest friends and longest direct-farmer relationships. 
Slinging coffee is a tricky business. Since our opening date is subject to change, we'll post our Design District Community Day's final date and time at bluebottle.co/cafe_openings when they are confirmed, and send you an email, if you have RSVP'd here.
Click here to reserve your spot.