Events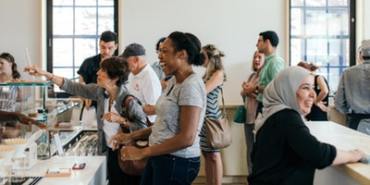 Brentwood – Community Day
Saturday, September 2, 2017, 9:00 am - 3:00 pm
13050 San Vicente Blvd, Suite 108, Los Angeles, CA 90049
WE'RE OPENING IN BRENTWOOD
JOIN US FOR COMMUNITY DAY
Our Brentwood cafe is almost ready, and we can't thank you enough for welcoming us into your community.
As a token of our gratitude, we're inviting you to a pre-opening sneak peek. In exchange for your help getting our baristas comfy behind the bar, we'll serve you some delicious coffee—on the house.
Slinging coffee is a tricky business. Since our opening date is subject to change, we'll post our Brentwood Community Day's final date and time at bluebottle.co/cafe_openings when they are confirmed, and send you an email, if you've RSVP'd. 
All proceeds from the day will go to benefit United in Harmony.
Click here to reserve your spot.